Okay so i was doing some work on a book cover today (using extremnely hi-res images), and i was having some problems with cutting the image out from it's background because no matter what i did i wasn't getting the results I was looking for. Anyway after reading a few different tutorials and piecing a few things together, i figured out exactly what i needed to do and i was so impressed with the result that i thought i would share the process with you.
So the aim of this tutorial is to show you how to turn this:
Into this:
In a few easy steps.
Please note i have never made a tutorial before so i hope this all makes sense. Also this tutorial requires some basic knowledge of the tools available in GIMP. If you have any questions just leave a comment and i will try and answer them for you.
Click inside for full details.
Step 1
– Open your image. In this case i needed to remove the white background from the mask.
Step 2
– Select the white background to be removed. I used the select by colour tool but you could use the fuzzy select tool as well. Make sure you have the alpha channel switched on.
Step 3
-Do a CTRL-X to remove the background. Your image should now look something like this.
So from a distance the cut out looks like it worked pretty well. But when you zoom in you can see that the edges of the image are actually quite jagged looking.
Step 4
– Use the fuzzy select tool to reselect the shape. Make sure you have feather edges set before you do the selection. I had the radius on the feather set to 50 and the threshold set to 30. This should select the area with a fairly smooth line. (it is a little hard to see below).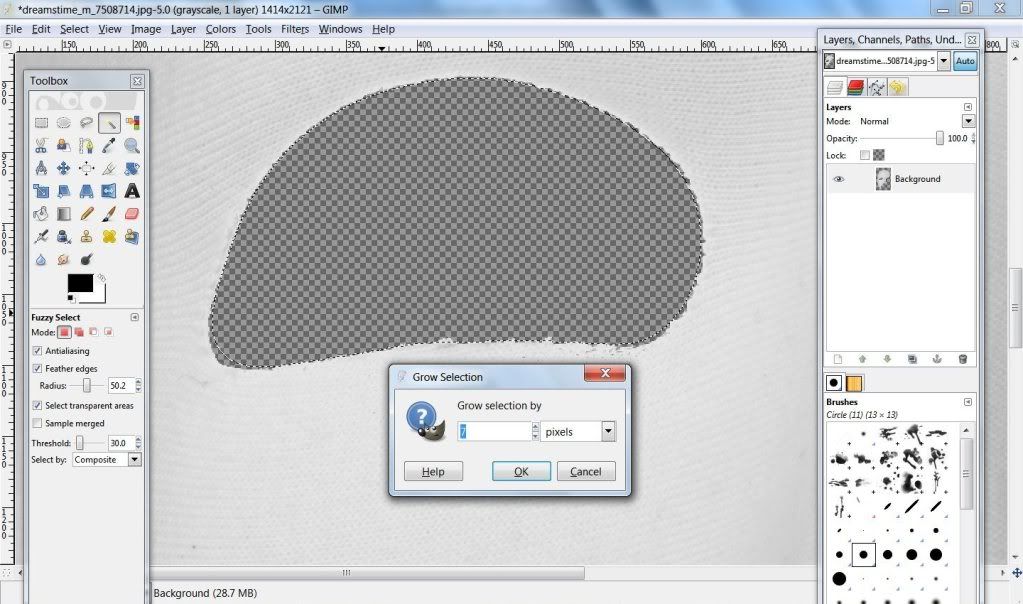 Step 5
-Once you have your selection you then want to got to Select -> Grow and Grow your selection by as many pixels as necessary I chose 5
So now when we look at the image below you can now see the selection a few pixels inside the edge of the image.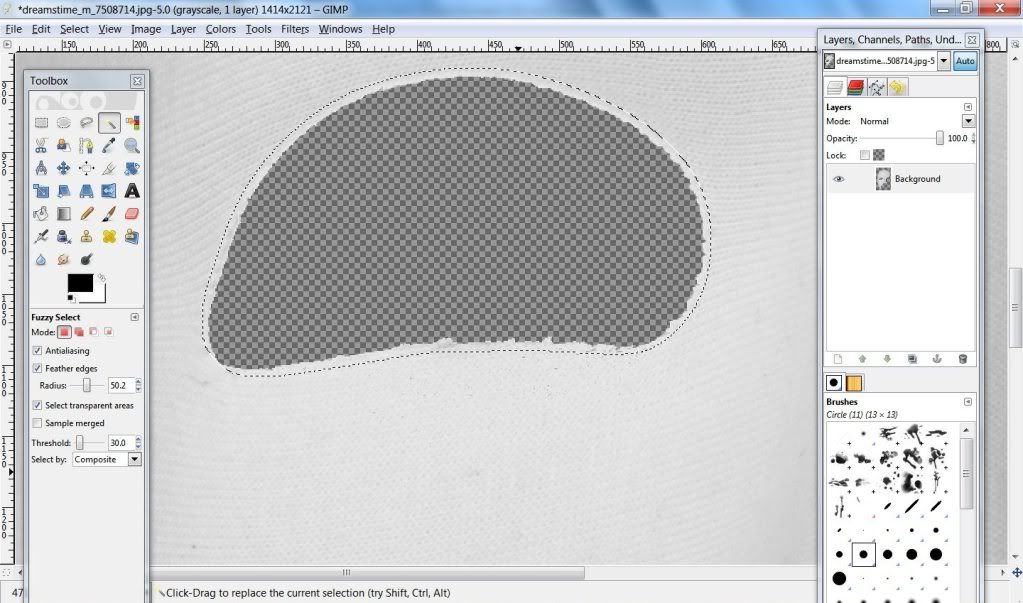 Now you are probably thinking cool i can just do a CTRL-X now and everything should be sweet. Unfortunately because of the feathered edge you get something similar to the image below. which in most cases wont be what you want.
Step 6
– What you need to do now is click on the paths tab on the right toolbar. There should be a little icon highlighted red about half way down that is the selection to path tool. Click on this button.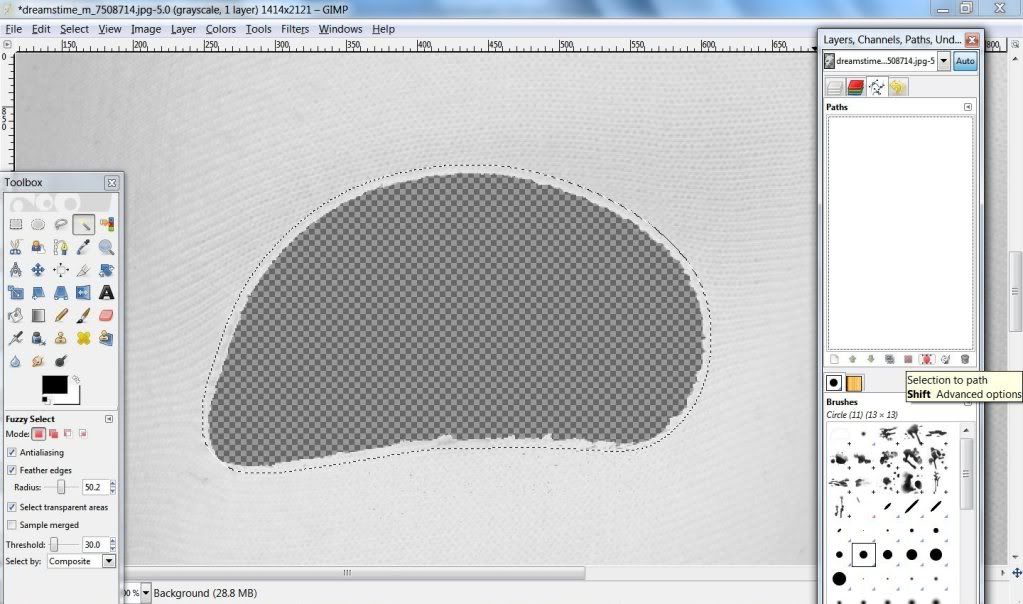 It then creates a path layer which you will need to make visible. You will also need to turn selection to none. It should then look something like this.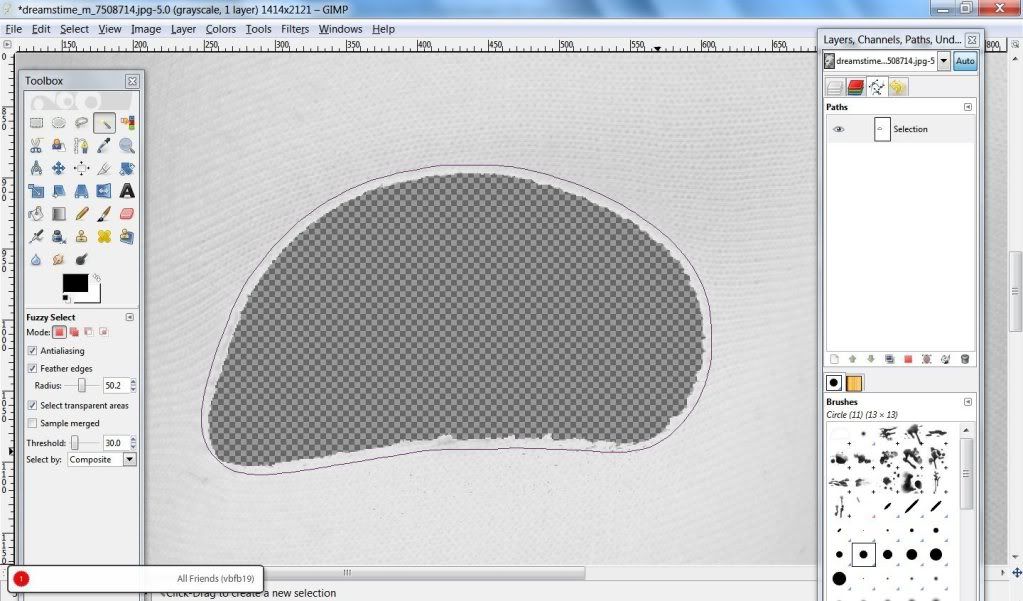 Step 7
– Then you select the paths tool  from the left hand tool bar and click on the path, it will then show you the marker points for the path and you can move these around if need be if your path isn't exactly how you want it.
Step 8
– Once you are happy with your path. You then click the path to selection icon on the right hand tool bar.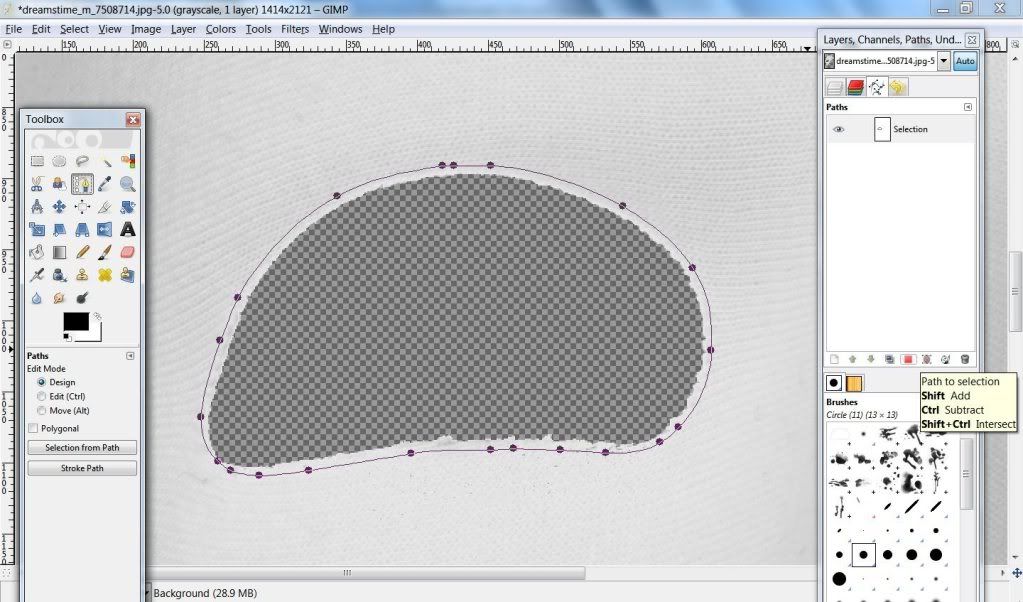 Your path should then show as selected.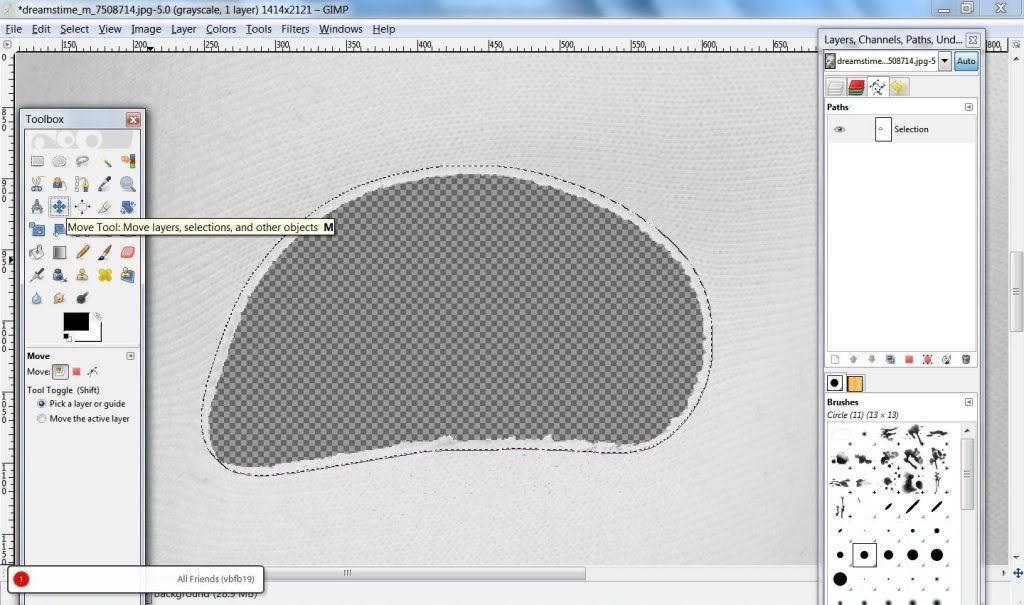 Step 9
– Now all you need to do is do a CTRL-X, then turn your selection to none and turn off the path and ta da you have a nice smooth edge to your image.
So I hope this helps some of the GIMP users. I have no idea if this translates to PS as well but if does just lets us know in the comments.
4 Responses to Smoothing Jagged Edges on an Image in GIMP